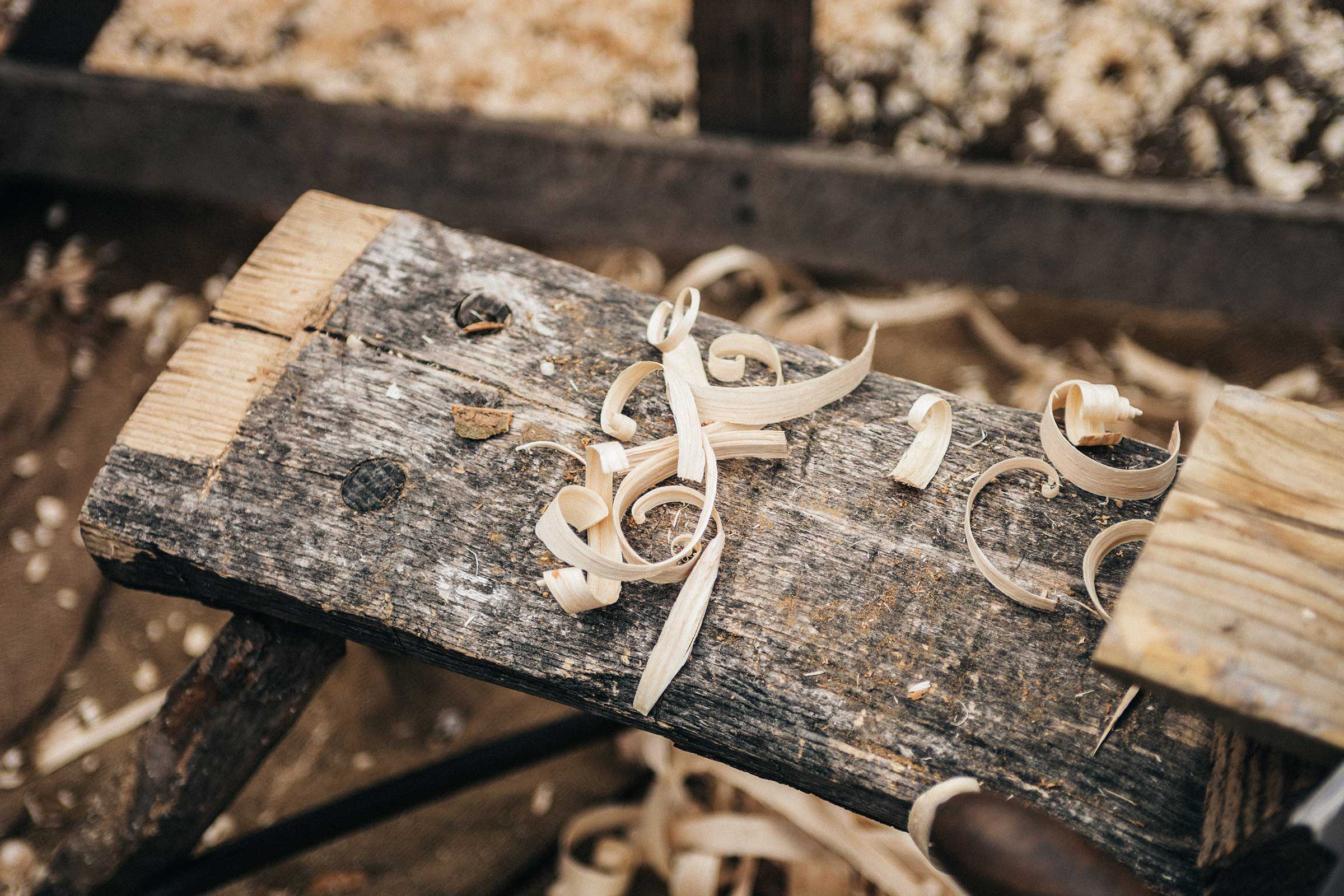 Materials & Quality
We seek out the anti-ordinary, the captivating and the standalone. We search for the intricate details that make a product exceptional and we're only happy when a product is good enough for our own home.
At INBALI we design, source and create beautiful furniture and accessories using the highest quality materials and most natural manufacturing processes we can find. By producing our collections in limited quantities, we can guarantee the quality, reduce the environmental impact and lower the prices.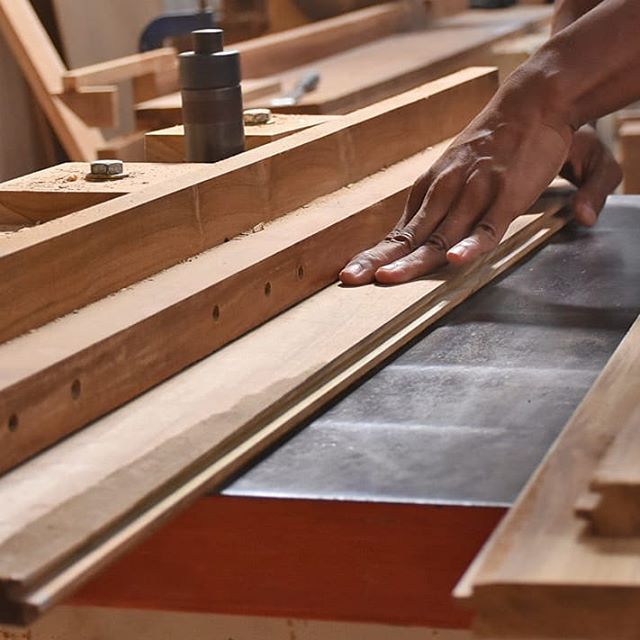 Discover our exceptional timbers & materials
Ethical & Durable Teak
Teak is a tropical hardwood native to India and Southeast Asia.
Exceptionally Resistant

: Teak is known for having a high protective oil content, making it incredibly resilient and capable of lasting a lifetime. Due to its superior properties, teak has been prized as a building material for homes, boats, and furniture for centuries. Teak maintains its exceptional condition over time—resisting even extreme temperatures and humidity—certainly making it a great investment.

Premium Quality

: Our teak is sourced from Java in Indonesia. We use grade A teak as the standard for our furniture. Grade A refers to the mature heartwood of a teak tree, with a minimum age of 30 years. Grade A is especially rich with natural oils. Our teak comes from controlled and sustainable plantations, and we work closely with the government to replant trees and ensure that only a certain number of trees are felled each year. This way, the forests can be protected.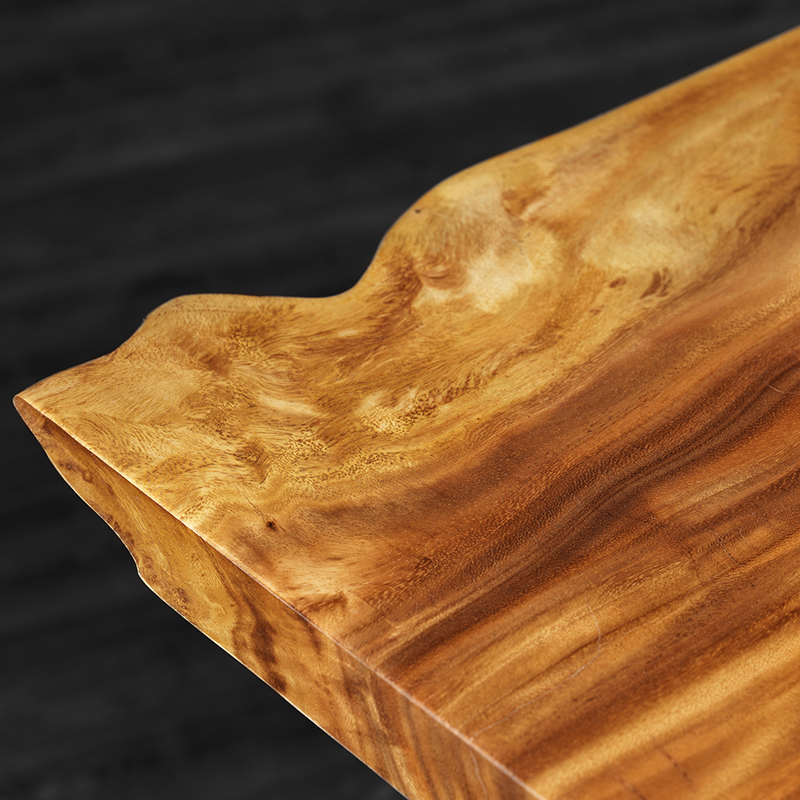 The Majestic Rain Tree - Suar Wood
The suar tree is a large tropical rain tree native to Indonesia.
Unprecedented Robustness

: Due to its crisscrossed interlocking grains, suar wood is resistant to cracking from movement and is highly sought for its strength making it impervious to decay. These characteristics make suar wood highly favourable in fine furniture making compared to other woods.

Style and Character

: Suar wood is a beautiful soft wood, its special grain texture makes it particularly suited for indoor accent pieces and an ideal choice for designer tables. However, it is not limited to colossal table tops as its beautiful grain makes it fitting as an exquisite centrepiece in any working or living space. This is a very sustainable timber, widespread, abundant and is in no danger of extinction.
Natural rattan
Rattan is a naturally renewable product of the palm tree that natively grows in Bali and Java.
Infinite Malleability

: Rattan is a very flexible material that we really love to play with, mainly because it is lightweight, durable and suitable for outdoor use. Rattan can be worked into so many shapes and allows us to be very creative with our furniture pieces. Our rattan is finished with a natural sealant that provides a barrier to moisture and sunlight.

Nature first

: Similar to bamboo, rattan is full of naturally occurring color and texture variances. Our rattan is a natural and honest organic material that re-creates the authentic nature of Bali at home.
Organic Fabrics Dyed by Mother Earth
We choose high-quality organic fabrics made from 100% of cotton or natural linen.
Beautifully handcrafted

: Whether our interior fabrics are handwoven on traditional looms, or beaded and embellished by hand, we aim to leverage the remarkably skilled craftspeople of Bali and bring awareness to their much time honoured artistry.

Made Ethically

: Our organic fabrics are hand-finished by our local plant dying workshop in Bali, making a difference to our environment and our own well-being. We chose to reflect the warmth of beautiful earthy colours that are extracted directly from plants. We love that we can now bring socially-conscious items into our homes.
The honesty of Brass & Copper
Each design is made by hand by our local and gifted Balinese silversmiths.
Pure metal

: Our metallic elements are made from honest substance, pure copper and brass. Both of these metals are known to have a strong durability that can last for decades and are anti-corrosion.

Sculpting and engraving

: We value the high level of artistry behind our metallic elements. Bringing both a traditional and modern touch to our items requires special skill and it takes patience.
Artisanal Spirit
The artisanal spirit of our furniture means that each piece will have unique and slight imperfections that are a product of any handmade item. We love the imperfections because they are a sign of the handmade nature of our product and the craftsmanship of our artisans. This is not just catalogue furniture.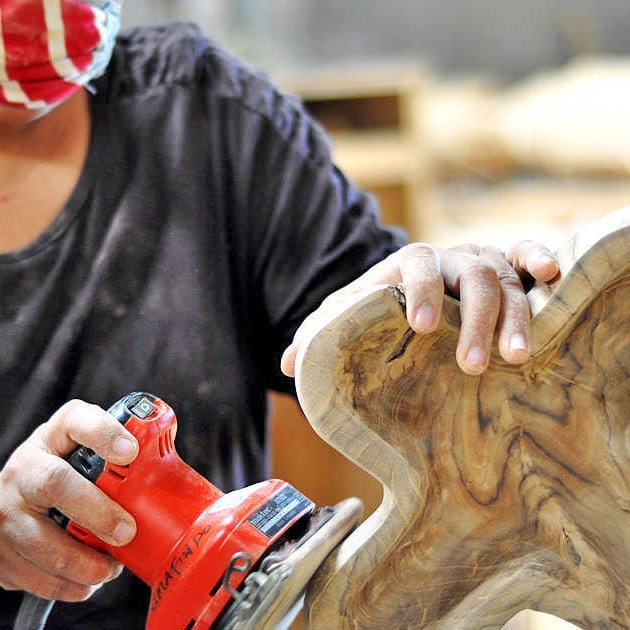 Our woods are perfectly engineered
INBALI embraces traditional woodworking techniques too. We ensure strict drying processes for our wood to be the most resistant, with all of our timber being dried to achieve a moisture content of between 8-12%. This minimises expansion and contraction of the wood even under extreme conditions. Thoughtfully designed, the construct also allows for expansion and contraction of the wood over the seasons.
Our furniture is made with the best quality timber. Wood is an organic material with naturally intrinsic variations. From texture and colour to grain and knots, our woods are unique and never the same across different pieces. We believe these natural characteristics enhance and add to the allure and character of our furniture.
Meeting International Quality Standards
Our collections meet all international quality standards. We care for our products and the environment by ensuring rigorous quality controls. Our specially-trained quality controllers constantly check:
Quality of the materials we use
Moisture content of all timber items
Construction of all assembled furniture
All items to ensure the finish is correct
Your shopping cart is empty.